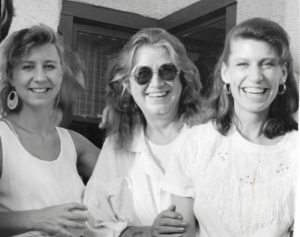 Welcome to Bee's Knees Estate Sales. We are two sisters who have been hosting estate sales in one form or another for over thirty years, with hundreds of estate sales in Georgia, Nevada and Southern California under our belts. We are the founders of Bee's Knees Estate Sales.
Cheryl Speir has decades of experience dealing with estates sales and liquidations. In 1987, she opened Adam's Attic, a vintage and antiques store, along with her mother in the venerated vintage-centric North Park section of San Diego. The store quickly became the largest of it's kind in North Park, and they opened a second location in Ocean Beach. Cheryl completed four years of education focusing on art history and Spanish language studies at the University of California, San Diego, as well as a year in Spain at the University of Madrid, before continuing her career in the service industry, which included a managerial position at a hotel in Granada, Nicaragua. From there she specialized in business liquidations in Granada, eventually purchasing a restaurant and bar there, which she ran successfully for ten years before moving to Atlanta in 2009 to work in the estate-sale industry before founding Bee's Knees Estate Sales. Cheryl speaks English and fluent Spanish.
Hollis Gillespie got her degree in Writing from the University of San Diego,where she partook in their study-abroad program that sent her to Oxford University for a year to study humor and satire. Throughout college she worked at the family's San Diego-based estate-sale business, Adam's Attic, before leaving to live in Atlanta, where she worked as a foreign-language interpreter for an international airline. During her down time Hollis wrote humor pieces for local publications, established a column for one of the countries biggest alternative publications, and was voted "Atlanta's Best Columnist" nine out of 11 years in a row. Her first book became a best seller, and she used the proceeds to found the Shocking Real Life Learning Center, an adult education center specializing in social media workshops. Today she utilizes her talents to promote Bee's Knees Estate Sales.
OUR MOTHER: Hollis and Cheryl were literally raised scouring thrift stores, swap meets and garage sales by a mother who worked as a missile scientist for the American government. Cheryl and Hollis worked with their mother during the weapons-contract off seasons by helping with their mother's side business dealing junk from the back of a van at the San Diego Sports Arena Swap Meet every weekend. Eventually this endeavor grew into a popular vintage second-hand store called Adam's Attic, which was the size of a baseball field and filled with items for sale culminated from estate sales and liquidated properties.
Call to set up an appointment for us to view your estate!
Cheryl Speir
Bee's Knees Estate Sales
404-974-7090 or BKestatesales@gmail.com
We speak Spanish!