Are you moving? Downsizing? Divorcing? Re-marrying? Dealing with the death of a loved one? Foreclosure? Sudden relocation?
Bees Knees Estate Sales to the rescue!
We specialize in on-site estate sales — a quick, efficient and money-making way to rid your household of accumulated excess, be it appliances, automobiles, antiques, collectibles, patio furniture, home fixtures, everyday curio, the odd, the strange, the unusual, literally anything and everything including the kitchen sink.
Bees Knees Estate Sales is a family-owned enterprise benefiting from a 32-year history in the resale, auction and estate-sale business. We are experts who have the know-how to ease your transition smoothly, quickly and productively. The cost to you? Absolutely nothing — we work on commission!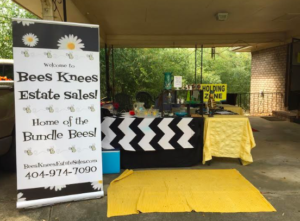 We are here to help you if you are an executor, heir, realtor, attorney or if you are helping a family member enter assisted living.

We specialize in helping people liquidate inherited property as well as those who are in need of liquidating their own property or the property of loved ones. If any of these scenarios apply to you then you can most definitely benefit from our experience as professional estate liquidators.  Our seasoned experience also extends to liquidating offices, warehouses, vacation homes, cabins, factories, restaurants — even boats! We at Bees Knees Estate Sales don't discriminate! We whole-heartedly embrace the modern concept that estate sales extend far beyond the sale of the personal property of those who have passed away.
Bees Knees Estate Sales is here to help seniors and their children, as well as estate executors and trustees, to evaluate, sell and thoroughly and expeditiously clear out the contents of a family home or business.
To find out more about the estate sale process and to schedule a consultation for a productive estate sale, call 404-974-7090.
Testimonials
"I will be forever grateful to Cheryl [Speir, owner of Bees Knees Estate Sales] for her help and guidance through a tough time while we moved our father from our old family home into a small assisted-living apartment. Cheryl was so thoughtful, and anticipated our every need. She made a hard time much easier to handle."
"Bees Knees Estate Sales helped me keep my sanity after a grueling divorce, when I needed to downsize most of my household so I could move from Atlanta to L.A., where a new job (and tiny apartment) awaited me."
"When I got a promotion to our New York office, I had just weeks to move. I was surprised at how much junk I'd accumulated over the years! If not for Cheryl I'd probably still be buried under that pile. She helped me clear out all the non-essentials in my life, as well as earn a tidy sum in the process."
"My mother was a classic hoarder. After she passed away, we hired Bees Knees Estate Sales to come in and deal with the mountain of collectibles, cars, appliances, tools, you name it. In the beginning we could hardly walk through the house. But by the end of the first day most of the items were cleared out, and I was surprised at how much money had been made already. I highly recommend Bee Knees Estate Sales."
Bee Knees Estate Sales handles on-site estate sales in Metro Atlanta as well as Fulton, Dekalb, Cobb, and Gwinnett County. We host sales in midtown, Marietta, Norcross, Sandy Springs, near the perimeter, outside the perimeter, on Peachtree or north of metro Atlanta. That includes Suwanee, Lithonia, Lawrenceville, Kennesaw, Emory, Douglasville, Decatur, Chamblee, Conyers, Buford, Alpharetta, Saturn and Pluto.